Waste Removal, Composting, Hauling & Zero Waste
301 Organics
Fax Number:
(626)296-0103
Contact:
Christine Lenches-Hinkel
Email:
clhinkel@301organics.com
Zero-Waste Consulting, Event Planning and Composting Services.

Athens Services
Fax Number:
(626)369-4754
Athens Services is a family owned and operated full service disposal & recycling company. Athens operates the largest Material Recovery Facility in the San Gabriel Valley which ensures maximum recovery of viable recyclables. In addition other services include construction and demolition containers, LEED project certification, temporary bins, street and parking lot sweeping, special waste services, recycling rebate programs and much more.
Consolidated Disposal Services- A Republic Services Company
Fax Number:
(818)504-3037
"Consolidated Disposal Services, formerly known as Allied Waste Services / Browning Ferris Industries (BFI), is the second largest non-hazardous solid waste management company in the United States. Our primary business is collecting, processing and disposing of waste and recycling efficiently, effectively and in a manner that emphasizes the protection of the environment and conservation of our natural resources. We have proudly been servicing the Pasadena commercial community for over 35 years."
Fer-land Agriculture Tech. Corp.
709 E. Colorado Blvd., #230

Fox Junk Removal
Email:
fox@foxjunkremoval.com
Fox Junk Removal services the cities of Pasadena, South Pasadena, Altadena, Sierra Madre, Arcadia, Monrovia, Temple City, Alhambra, Rosemead, Monterey Park, El Monte, Baldwin Park, West Covina, Duarte, Azusa, Glendora, Citrus, Covina, Vincent, Irwindale, Bradbury, San Gabriel, La Canada Flintridge, and Burbank. We remove unwanted items from homes and businesses. Call for a free estimate.
Pasadena Water Damage Pros
2335 E. Colorado Blvd.,#115, Suite 153
Email:
pasadenawaterdamage@gmail.com
We specialize in water damage restoration and removal. We also deal with fire damage, smoke damage, and mold remediation.

South Coast Fibers/American Reclamation
Fax Number:
(818)548-8814
South Coast Fibers and American Reclamation has provided on-call or scheduled recycling and rubbish removal services for various sizes of bins, compactors, enclosed trailers, flatbeds, and roll-off containers. We service commercial customers and multifamily-residences in the cities of Pasadena, Glendale, Burbank, Los Angeles (including the San Fernando Valley), Montebello, Vernon, and Commerce as well as unincorporated sections of Los Angeles County.
Our recycling facility, located near the interchange of the 134 and 5 freeways, has a 70%+ diversion rate for mixed construction and demolition material, and recycles cardboard, paper, CRV containers, metals, plastics, E-waste, green waste, carpet, lumber, and various construction materials. We pay for source-separated recyclable commodities, offer excellent service at a competitive price, and will always work with our customers to provide solutions to their recycling, diversion, and waste removal needs.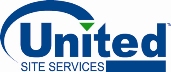 United Site Services
Fax Number:
(626)454-5916
Contact:
Natalie Hinojosa
Your Trusted Source for Portable Toilet Rental and Site Solutions. United Site Services is the nation's leading provider of portable sanitation services. With more than 54 locations coast to coast, providing quality Premium trailer and portable restroom rentals, temporary fence, power, and Recycling/Trash Roll-Off Services. Our fast, friendly customer service gives you peace of mind from expert planning to accurate delivery and quality service.

Valley Vista Services
Fax Number:
(626)961-1105