City of Pasadena and Pasadena Chamber of Commerce Bring Experts Together at Altadena Town and Country Club
More than 150 people attended the 9th Economic and Business Summit held at Altadena Town and Country Club on October 17th. The event, a partnership between the City of Pasadena and the Pasadena Chamber of Commerce, presents an overview of current economic conditions and trends, a look at local development and economic activity and a focus on a topic of interest to the local business community. 
Pasadena Media recorded the event and put together this highlight video: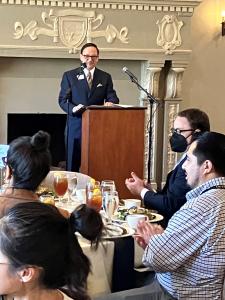 Pasadena Chamber Board Chair Don Schweitzer of Schweitzer Law Partners emceed the program. "First, I would like to thank our partner in today's event the City of Pasadena. I also want to thank our Gold Sponsors: Kaiser Permanente, Verizon and Wells Fargo. And our Silver Sponsor UCLA Health," Mr. Schweitzer said. "I want to take a moment to let you know that the Pasadena Chamber of Commerce is doing well. Like everyone, we have had to weather the pandemic and make some changes in our operations and our expenses, but we managed that without losing staff. The pandemic forced us to trim our expenses, but we are noticing that nothing we cut impacts our service to our members."
Mr. Schweitzer also introduced some noted attendees including Pasadena Mayor Victor Gordo, Council Member Tyron Hampton and Miguel Marquez, Pasadena City Manager. Also attending were Alice Juarez, Regional President for Wells Fargo, Jesus Roman with Verizon and Jacob Mota with Kaiser Permamente. Frank Miller, General Manager of Hollywood Burbank Airport, Andy Wilson, former Pasadena Council member and Airport Authority Commissioner, Rob McClinton, Board President of Innovate Pasadena, Jens Weiden, General Manager of the Rose Bowl Stadium. Pat Anderson, CEO of the La Canada Flintridge Chamber of Commerce, Dia Duvernet, CEO of Pasadena Humane and La Canada Flintridge Treasurer of La Canada Kelly Wine.
Pasadena Chamber Board members present included Immediate past president Raphael Henderson of Wells Fargo, Katelyn Barchowsky of Storied Lane Marketing, Lynelle Bryant of Masbuild, Inc., John Burt with John Burt Executive Coaching, Tom Daly of Lewis Roca, John Leano of Bryan's Cleaners and Laundry, Emilio Padilla-Larios of the Langham Huntington Hotel, Nerissa Sugars of Hollywood Burbank Airport, Ishmael Trone of F&M Business Center, Justin Tsui with TeamLogic IT, Bill Ukropina of Coldwell Banker Commercial, Jens Weiden of the Rose Bowl and Lloyd Wong of Clifford Swan Investment Counselors.
In addition to the sponsors, companies represented at the Economic and Business Summit included BYD/RIDE, the world's largest builder of electric vehicles, CBRE, telecommunications infrastructure builder Crown Castle and Cushman and Wakefield.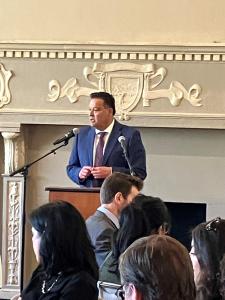 Mayor Victor Gordo Welcomed guests and reminded everyone of the complex and resilient economy we enjoy in Pasadena. "Think about the institutions we have here: Caltech, Art Center, JPL, Huntington Hospital, HMRI (Huntington Medical Research Institutes) and Pasadena City College," Mayor Gordo noted. "We are attracting even more. Carnegie Observatories are moving their headquarters here, GM is bringing their autonomous vehicle research facility to east Pasadena. Xencor just opened a research facility near Rosemead and Sierra Madre Villa. Pasadena is seeing a lot of positive economic activity." 
Wells Fargo Vice President and Senior Economist Charles Dougherty discussed the world, national and regional economy with a focus on trends, indicators and concerns. "The data we are seeing tells us the US economy grew 5% in Q3 of 2023. Anything over 2% is really good," Mr. Dougherty explained. "Our economy is firmly on a growth trajectory. And this despite the Federal Reserve aggressively hiking interests rates. The question of the day is: How long will that last?" 
Mr. Dougherty went on to explain that a mild recession is anticipated within the next year, but he anticipates a "soft landing" coming out of that. Meaning the impacts will be felt but not be lasting or catastrophic. 
Assistant City Manager David Reyes discussed economic initiatives and development in Pasadena. "We have seen two hotels reopen under different branding, the Pasadena Hotel and Pool at Colorado and Mentor and the Hotel Dena adjacent to the convention center. We also have the AC Hotel under construction in the Playhouse Village, with an anticipated opening in 2024," he noted. "And the City just secured a $1.5 million grant to support restaurants with creating or enhancing outdoor dining, especially in areas outside of the downtown business improvement districts."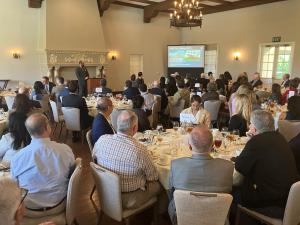 Rob McClinton, Board President of Innovate Pasadena and CEO of Small World Communications, Inc. gave a presentation on Artificial Intelligence (AI) for business. In providing an overview for those in attendance, Mr. McClinton noted that "AI really is statistical. It uses the information it can accumulate to formulate responses that most accurately respond to the query." Mr. McClinton noted that, "We have heard a lot of doom and gloom about AI, but I don't agree. Like everything else, it is up to the users to determine its use and applications. I am confident our better angels will prevail."
Mr. McClinton went on to explain how AI can be used to enhance product design, inventory forecasting, marketing and communications efforts. AI chatbots are already used to enhance customer service experiences. "AI can help reduce manual workload and costs, tailor products services and experiences to individual customers and grow and adapt to changes without a huge investment," Mr. McClinton said. "There are concerns related to DeepFakes, misinformation and the use of unauthorized data. The initial investments can be high and AI might not always generate the desired outcomes. It is not good to take the human completely out of the process and oversight."         
According to Pasadena Chamber CEO Paul Little, the event was a success. "This collaboration between the City and the Chamber brings up-to-date information to the public in a way that educates and engages the business community in Pasadena," Mr. Little said. "The Summit changes each year to cover timely topics of interest while highlighting the local economy and factors that may be impacting it." 
The Economic and Business Summit is a collaboration between the City of Pasadena and the Pasadena Chamber of Commerce. The summit is held every year in the fall and features speakers on the economy, local initiatives and topics of interest.