The Pasadena Chamber of Commerce is a vibrant and professional business association fully committed to advancing the success of our members and fostering a robust economy throughout the greater Pasadena, California area.
As a proud member of the Pasadena Chamber of Commerce, you can expect:
1. Dedicated Support: We are here to empower your business growth and boost your prosperity. Our friendly and capable staff are readily available to assist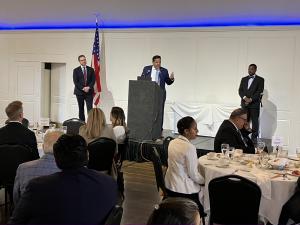 member businesses in any way possible.
2. Consumer Confidence: Membership in our Chamber instills confidence in consumers. Research indicates that businesses belonging to the local Chamber of Commerce are 50% more likely to attract customers. Read the independent Shapiro Report on Chamber Membership here. Read what American Business Magazine has to say about Chamber membership by clicking here.
3. Valuable Services and Support: Membership brings services and support valued at $1785 annually. These include website listing and enhanced internet visibility, business directory inclusion, referrals, free member events, advocacy efforts, member discounts, informative seminars, and programs. If acquired individually in the marketplace, these ervices would cost at least $1785.
4. Online Directory Listing: Your business gains a search engine optimized listing on our Chamber's online directory. This listing ranks prominently on Google, Yahoo, and other search engines, often serving as a member's web page. Our online directory attracts 4500 to 6000 weekly visits, with 62% being first-time users. It stands as the premier resource for services and products in the Pasadena area.
5. Promotion Opportunities: You can promote your business through "Pasadena Commerce," our monthly newsletter, weekly email blasts, and monthly member-to-member offers email blast. These channels offer the most effective communication with our members.
6. Annual Business Directory Inclusion: Your business is featured in the Pasadena Chamber of Commerce Annual Business Directory and Community Guide. Additionally, you have the chance to advertise in the Directory and Guide, as well as on the Official City of Pasadena map. These are unparalleled opportunities to showcase your business, products, or services.
7. Web Presence: Our Chamber website receives over 6000 weekly visits, with two-thirds of visitors browsing the online directory in search of services, supplies, and products. This represents an exceptional web presence for a minimal investment.
8. Referrals: Enjoy free referrals to your business. When potential customers contact the Chamber, we exclusively refer them to Chamber members providing the needed services, offering you the best opportunity to expand your business.
9. Networking Opportunities: Engage with fellow business professionals and promote your enterprise at our monthly Connection Breakfast and Luncheon Alliance events. These gatherings facilitate meaningful connections, valuable referrals, and references, making them the best networking events in Southern California.
10. Social Mixers: Our monthly Chamber After Hours social and mixer provides a relaxed environment for members to network and have fun. These are the best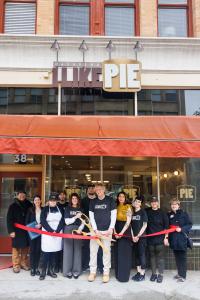 social events to casually connect and network.
11. Young Professionals Networking: Young professionals aged 21 to 40 can meet, mingle, and network at our bi-monthly Young Professionals of Pasadena happy hour events hosted at various Chamber member restaurants and bars.
12. Educational Opportunities: Benefit from informational presentations, seminars, and workshops on topics like business plan writing and human resource management. These educational opportunities are tailored to members' needs.
13. Showcase at Events: Exhibit your business at the annual Taste of Pasadena event, which offers unparalleled opportunities to introduce your business to potential customers.
14. Community Engagement: Collaborate on community-enhancing efforts that positively impact our city and elevate your business's profile in the community.
15. Access to Expertise: Tap into expertise and advice through partnerships with other Chambers, the Small Business Development Center at Pasadena City College, the U.S. Small Business Administration, SCORE, and more.
16. Advocacy: Benefit from our proactive advocacy on behalf of businesses and the local economy at local, regional, state, and federal levels. Recent successes include saving members significant sums through fee and rate concessions and reducing water costs.
17. Industry-Specific Collaboration: Participate in industry-specific sub-groups facilitated by the Chamber. These groups foster collaboration, discussion of trends and best practices, and advocacy on pertinent issues.
18. Meet Community and Industry Leaders: Attend Chamber events like the Inaugural Gala, Business and Economic Summit, Golf Tournament, and Celebration of the Tournament of Roses to connect with community and political leaders.
19. Streamlined Permitting: Cut through the red tape. Receive assistance with city and county permitting, approval, and inspection processes. Our strong relationships with local authorities ensure an efficient process for your business's growth and expansion.
20. Procurement Opportunities: Explore procurement opportunities through our ACCESS:Opportunity forum, connecting small businesses with potential large clients such as JPL, Parsons, Caltech, and the City of Pasadena.
21. Financial Benefits: Maximize your bottom line by reducing costs, expanding markets, accessing expertise, and reaching new customers, all with the unwavering support of our dedicated Chamber staff.
22. Discounted Travel: Take advantage of discounted travel opportunities through Pasadena Chamber member programs and specials. Discover the world at competitive prices alongside fellow Chamber members.
23. You Are Among the Best: Being a part of the Pasadena Chamber of Commerce means being counted among the best. Pasadena is a renowned city, and our members are recognized worldwide for their excellence. Join us and become part of the most dynamic business organization in the world's best small city.
To join the Pasadena Chamber of Commerce, click here.
We look forward to welcoming you to the Pasadena Chamber of Commerce.
Pasadena Chamber CEO Paul Little discussing membership, benefits and the Chamber with attorney Don Schweizter on the Exhibit A podcast produced by The Law Offices of Donald P. Schweitzer: