Greater Pasadena is served by the Pasadena Unified School District with 20 elementary schools, three middle schools and four senior high schools serving grades K-12. In addition, there are more than 35 private elementary, secondary and post-secondary schools in the area, including La Salle, Saint Francis, Flintridge Sacred Heart and Maranatha High Schools, Saint Andrew and Walden schools. 
International boarding and day school EF Academy recently opened a campus in north central Pasadena. 
More than 60 pre-schools and childcare centers also serve the community.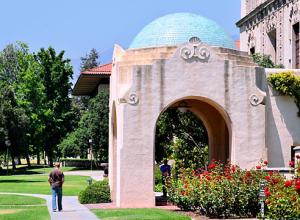 Pasadena is also home to some of the finest higher education institutions in the country. California Institute of Technology (Caltech) is the top research university of its kind in the world. The Caltech campus is a gem of gardens, as well as historic and cutting edge architecture. At various times, Caltech has been home to 31 Nobel Prize winners including Linus Pauling, Murray Gell-Mann and Richard Feynman. Albert Einstein made three long-term visits in the 1930s and Stephen Hawking still lectures at Caltech.
Fuller Theological Seminary trains Christian leaders for service worldwide on a campus that features restored Craftsman architecture, a beautiful, tree-lined promenade and a new library.
Art Center College of Design, a nationally renowned leader in art and design education, has a beautiful campus overlooking the Rose Bowl. Pasadena City College is the jewel of California's community college system.
Saybrook University recently relocated to Pasadena. 
Pasadena's Public Libraries were designed to be the heart of each neighborhood, as envisioned by early civic leaders who recognized the importance of lifelong learning. That meant within walking distance, and with a vitality that would keep pace with the ever-changing modes of acquiring knowledge. Today, infants and toddlers are discovering the joy of words, seniors are designing their own websites, and all ages in-between have formats and services geared to their particular needs. With a collection of almost one million items, the Pasadena Public Library is your source for information 24/7. To learn more, visit  www.PasadenaPublicLibrary.net.