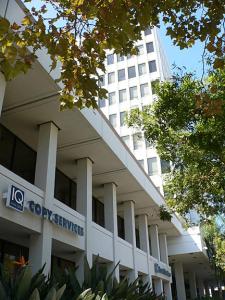 Pasadena is an ideal climate for business. Probably no other city of its size is home to more internationally known businesses than Pasadena. One of the key reasons is the highly educated workforce resulting from the presence of many renowned educational and research institutions located in Pasadena. The majority (over 60%) of a labor force of 100,000 is employed in professional, managerial, technical, sales and clerical positions. Approximately 20% are employed in manufacturing and other light industrial companies while close to 15% are employed in the service industries.
Education
Pasadena has a well-education population: The American Community Survey Estimates for those that are 25 years of age or over, 85.5% are high school graduates and 45.6% have at least a bachelor degree or higher. The same 3-Year Estimates show 35,308 people are enrolled in school, from preschool or nursery school to college or graduate school. Of those, 17,504 are enrolled in elementary or high school; college enrollment is 13,770 persons.
Corporate & Technology
By far the two largest employers are the California Institute of Technology (Caltech) and the Jet Propulsion Laboratory, which is operated by Caltech under contract to NASA. Many emerging technology-related businesses trace their roots to these institutions, and newly created office space and research facilities are attracting many more technology related companies.
Pasadena is headquarters to Parsons Corporation, Western Asset Management, Tetra Tech, East-West Bank and Singpoli Capital, among others. Top employers include health care and research leaders Huntington Memorial Hospital, Kaiser Permanente and Huntington Medical Research Institute; engineering and construction firms such as SGI Construction Management; insurers Bolton and Company and Tokio Marine and financial institutions such as Community Bank.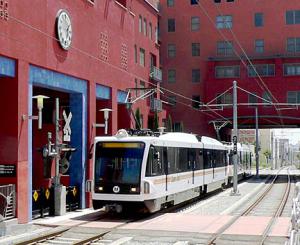 Transportation
Accessibility throughout Pasadena and to all of Greater Los Angeles, Southern California as well as the world beyond is another of the many benefits of locating in Pasadena.
Public Transportation
In 2003, the Gold Line Light Rail system connecting Pasadena with Los Angeles was completed. It provides easy access from six stations located throughout Pasadena to downtown Los Angeles Union Station with connections to virtually any location in Greater Los Angeles.
The City of Pasadena provides convenient transportation on several routes throughout Pasadena and most connect to the Gold Line stations. The Area Rapid Transit (ARTS) buses are colorfully decorated and stops are clearly marked with ARTS signage. The ARTS buses operate throughout the day and evening. For routes and schedules, call (626) 744-4055.
The Metropolitan Transportation Authority (METRO) provides bus service from Pasadena to Los Angeles and throughout the San Gabriel Valley. Additional bus routes are covered by Foothill Transit, which provides regular and express bus service between Pasadena and Monrovia, Pomona and Claremont.
Air Travel
Jointly owned by Burbank, Glendale and Pasadena, the Bob Hope Airport, located in the City of Burbank, is only a 20-minute drive from Pasadena via the 134 and Golden State Freeways. There are convenient, non-stop flights available to virtually every major population center in the west and most major cities in the United States.
For longer flights and international travel, the Los Angeles International Airport is a 45-minute drive from Pasadena via the 110 and 105 Freeways. LAX is served by every major domestic and international air carrier.
Ontario International Airport, located one hour to the east on Interstate 10, also serves virtually every US airport and some international destinations. Shuttle transportation to all airports is available around the clock from hotels and residences in Pasadena.
Freeway Travel
California Highway 110, the Pasadena Freeway, connects our city with downtown Los Angeles, ten miles to the southwest.
Pasadena is also served by the 210 Foothill Freeway and the 134 Freeway, which connect the city to the rest of the San Gabriel Valley to the east, the San Fernando Valley to the west and the Antelope Valley to the north.
Shopping, Dining and Tourism
Pasadena is also known throughout Southern California as a destination for shopping, dining and entertainment. The city offers top retailers, trendy boutiques, exquisite shops, and restaurants from ethnic to gourmet.
Antique lovers have discovered a variety of unique shops located throughout Pasadena. Some of the largest concentrations can be found on South Fair Oaks, South Raymond Avenue, Colorado Boulevard, and East Green Street.
South Lake Avenue is a 10-block tree-lined avenue featuring 200 businesses, including top retailers, boutiques, major department stores and a wide variety of restaurants.
Pasadena's Playhouse District, home of the Pasadena Playhouse, is located between Old Pasadena and South Lake Avenue. Within the Playhouse District are a variety of retail stores, bookstores and restaurants, as well as America's best independent bookseller, Vroman's.
Paseo Colorado, along Colorado Boulevard, is a true urban village, including retail, restaurants, movie theaters, residential units, and offices. Restaurants such as Noor and El Cholo serve customers visiting Macy's and Gelson's Market.
Historic Old Pasadena is a 20-block area that is home to more than 200 businesses including specialty shops, retail stores, boutiques and restaurants. Many are located in refurbished buildings from Pasadena's earlier years.
Hastings Ranch Shopping District is located at the city's eastern gateway, along Foothill Boulevard. The district offers an extensive variety of retail ranging from restaurants and supermarkets, to clothing and general merchandise, sporting goods and pet stores.
Pasadena's neighborhoods are renowned for their aesthetics, amenities and safety. Beautiful tree-lined neighborhoods are just five minutes from Pasadena's business districts and commercial areas. Lush parks and excellent branch libraries can be found in every neighborhood in the city.