It's that season. Let's celebrate our businesses, to!
Join us on Wednesday, December 20th, 2023 at 7:30am for our networking Connection Breakfast.
We moved the breakfast to VILLA GARDENS at 842 East Villa Street (just west of Lake Avenue) in Pasadena . We will meet on the 5th Floor. 
Dr. Dennis Buckley of Health Advantage Physical Medicine moderates the breakfast networking event. Join us to promote your business, make new contacts, visit with friends and enjoy breakfast at VILLA GARDENS.
Dedicato Treatment Center sponsors the December 20th breakfast. Contact the Chamber office at 626-795-3355 if you would like to sponsor a future event. 
Cost to attend is $35 for Pasadena Chamber members and $40 for non-members.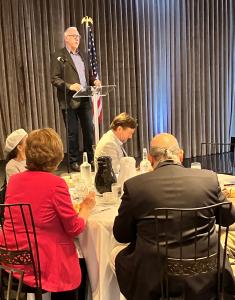 You must register and pay online by the close of business the Thursday before. 

CLICK HERE TO REGISTER AND PAY IN ADVANCE.
Anyone registering after close of business Thursday must pay an additional $10. Call Kelly at 626-795-3355 to register and pay after the deadline.
We can accept no reservations after 5pm the Monday before the event. 
Parking is FREE using either the valet service or the adjacent church parking lot.  Choose your option when registering for the Connection Breakfast. 

BE SURE TO REGISTER BY THE END OF BUSINESS THE THURSDAY BEFORE THE EVENT AND PAY IN ADVANCE TO ENSURE YOUR PLACE.