The Pasadena Chamber of Commerce will honor Tournament of Roses Association President Alex Aghajanian at the annual President's Breakfast at the Hilton Pasadena on Thursday, December 7, 20223. Breakfast begins at 7:30 a.m. followed by a festive celebratory program.
Wells Fargo is presenting sponsor of the President's Breaklfast. 
Chamber members and friends will hear Mr. Aghajanian's ideas behind Celebrarting a World of Music, the theme for the 2024 Tournament, with honored special guests the Royal Court, as well as Tournament presidents past, present and future.
A highlight of the breakfast is a chance to hear Mr. Aghajanian share his experiences as President of the Tournament. We will also hear about her choice of Grand Marshall for 2024 and more. 
Throughout his Tournament of Roses career, Mr. Aghajanian has served on and chaired various Committees including Budget and Finance, Communications and Credentials, Formation, Music, Parade Policy and Queen and Court. He was appointed a Committee Chair in 2006, a Tournament Board of Directors member in 2009 and elected to the Executive Committee in 2015.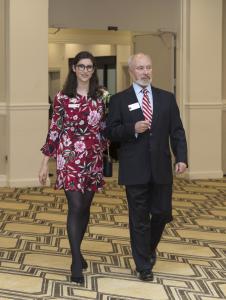 and Music. In 2008, she was appointed a Tournament Committee Chair and lead Coronation/VIP Tailgate, Float Entries, Queen & Court and was the first woman to chair Parade Operations. She was elected a Tournament Director in 2011 and to the Executive Committee in 2014.
Professionally, Mr. Aghajanian is an attorney with the Law Offices of Alex P. Aghajanian in Pasadena. Named by his peers a Top Attorney in Pasadena in 2010 and 2014, he was also recognized as a Martindale-Hubbell AV-Preeminent Lawyer from 2000-2022.
In 2010, Mr. Aghajanian and his wife, Paula, founded Dream With Me Foundation where he serves as president and a member of the Board of Directors. The nonprofit organization provides students, and non-professional musicians of all ages, accessibility to vocal and instrumental performance, education, and training through scholarships and grants.
Mr. Aghajanian is a former member of the Board of Directors of the Rose Bowl Operating Company, Habitat for Humanity Advisory Council, Alkebu-lan Cultural Center, and was an elected member of the Pasadena Unified School District Board of Education as well as a member of the Altadena Town Counsel. While managing and coaching baseball and AYSO soccer, Aghajanian served on the Board of Directors and Foundation Committee of the East Altadena Little League.
Tickets to the President's Breakfast are $75 each. Corporate tables of ten are $1,000. Queen and Court Sponsorships are SOLD OUT. 
Valet parking is included in the cost of breakfast and sponsorship.
Queen and Court Sponsors are: Athens Services, Home Instead Senior Care, Hollywood Burbank Airport, Kaiser Permanente, Pasadena Center Operating Company, Pasadena Tournament of Roses and the Rose Bowl Stadium.  
Wells Fargo is our presenting sponsor.
Invitations have been mailed. If you did not receive one, but would like an invitation, please call the Chamber office. For information, or to purchase tickets, please call the Chamber office at (626) 795-3355 or email leanne@pasadena-chamber.org. 
You can also click here to purchase tickets.