Air-Tro Heating & Air Conditioning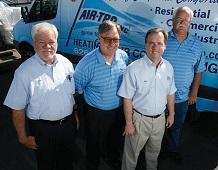 Phone: (626) 357-3535
Fax: (626) 358-9580
Website: www.airtro.com
Contact: Bob Helbing
Make Air-Tro your trusted provider for air conditioning, heating, and home air quality. We combine a culture of constant innovation, training, and improvement with a tradition of craftsmanship that goes back through four generations of contracting.
Located in the San Gabriel Valley of California, Air-Tro takes care of all varieties of customers in Pasadena and the greater LA region. If your great-aunt's wall heater has a bad pilot light, we can help. If your 1930s craftsman home needs its asbestos heating system replaced, if your child's asthma makes her sensitive to airborne particles, or if you want your mother's condominium set up for scheduled maintenance so she doesn't have to fool with the furnace filter any more, we can help.
Each of our 25 service technicians are all certified by the Federal EPA. All our employees go through background checks and drug screens, so you can rest easy knowing your home or business is in safe hands. We'll call you AND send you an e-mail when our technician is on his way. We'll use dropcloths to make sure your floors and furniture don't get scratched. We'll treat your home like it's our own.
Air-Tro meets or exceeds all the industry standards for performance and excellence. We have been named as the Readers Choice for HVAC services by the Los Angeles Times, the Star News, the San Gabriel Tribune and other local newspapers. We are a five-time winner of the Angie's List Super Service Award. Air-Tro has been named Contractor of the Year by ACCA (Air Conditioning Contractors of America).
Don't trust your comfort to anyone but the best. Call Air-Tro today.