261 Fearless Club Los Angeles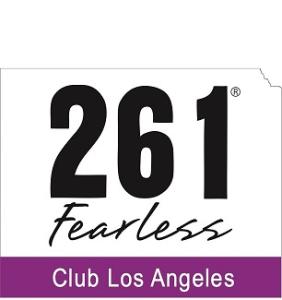 Phone: (562) 458-9472
Website: https://www.261fearless.org/clubs/los-angeles-ca-us/
Contact: Patricia Winiecki
261 Fearless Club Los Angeles was launched at the Pasadena Senior Center in January 2020 to empower senior women to become and stay active.
This fearless and successful beginning has enabled and inspired us to reach out to women of all ages and all abilities, 18 years and up.
Our weekly, one-hour activity programs are guided by Certified 261 Coaches and supported by welcoming and experienced members.
Our meetings are from 2–3 pm every Tuesday. Our meeting location varies, including the Pasadena Senior Center, Pasadena City points of interest, Pasadena parks, and the Pasadena Rose Bowl, Arroyo and trails. Locations are posted on Strava at 261 Fearless Club Los Angeles Meeting Locations or please feel free to email Coach Pat at pwinieck@sbcglobal.net.
Our mission is to engage and support women of all backgrounds and abilities to get active and stay healthy. We provide education and a welcoming, safe space for women to learn, move and have fun. We are non-judgmental, non-competitive and nonperformance-based. We encourage the social running, rather than speed or distance. We teach good technique and provide cutting-edge information on women's health. We welcome walkers and runners.
261 Fearless Los Angeles is a local, nonprofit organization and is part of the 261 Fearless, Inc. global network. We invite and encourage women interested in becoming coaches or learning to establish their own clubs to visit 261Fearless.org.
Those interested in supporting our efforts for women's health may donate at https://GoFund.me/bd0b0232. We cannot thank you enough for your support!
Please feel free to contact Coach Pat at pwinieck@sbcglobal.net. Be Fearless. Be Free. Be Grateful. Run with 261