Each December the Pasadena Chamber publishes its Program of Work to inform our members of our activities and initiatives for the coming year.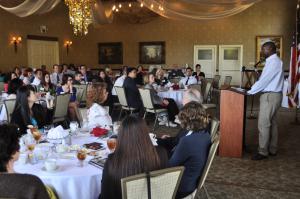 Understanding that nearly everything we do is dependent on technology, the Chamber will continue to enhance our communication capabilities and efficiency through a modest investment in our technology. We will also expand on our efforts to utilize social media and the website to inform our membership.
Our focus as a Chamber continues to be our membership and the services, support and advocacy we provide on your behalf. We will explore creating a business-to-business mentor program to connect those with experience with fellow members who may have questions or challenges. We will look into hosting online tutorials and webinars to enhance your ability to find information and assistance easily. We are devising web programs to help you maximize your Chamber experience and benefit.
We are going to explore hosting a CEO speaker series so that the leadership of some of our more prominent member companies can discuss their industry, business trends and their company mission with our membership. We are also hoping to collaborate on more industry-specific social and networking events so that our members who do business, or would like to do business, with particular sectors of our membership can meet, socialize and promote your businesses.
The Chamber is also exploring how to be more relevant in the area of workforce development. Discussions at the committee level have pointed us toward more of a leadership role in devising and implementing programs that can provide work and entrepreneurial experience for young people. We are also exploring ways to enhance employment opportunities within the membership.
The Chamber is an effective advocate on behalf of our business community and the local economy. We are energetic in informing you about the positions the Chamber Board takes and the results of our efforts.
The entire workplan is available here: