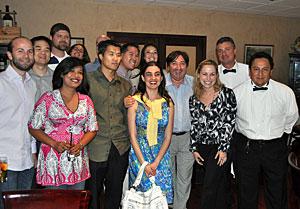 The Young Professionals of Pasadena is a social and business networking group for people ages 21-40ish who live work and thrive in the Pasadena area. The Young Professionals get together for business and social networking at fun places of interest in the Pasadena area. The Young Professionals is a great way to expose what you do to people in a similar age group and make lifelong connections, both professionally and socially.
Membership in the Pasadena Chamber of Commerce is not required, though it is certainly appreciated.
If you would like to be added to the email contact list so that you receive updates about happenings please send an email to Leanne@pasadena-chamber.org. You can also become our Facebook friend and receive updates as well. To do that, search on Facebook using https://www.facebook.com/PasadenaYoungProfessionals . We look forward to seeing you at our next event!!